Ayden Sims
Chair of Governors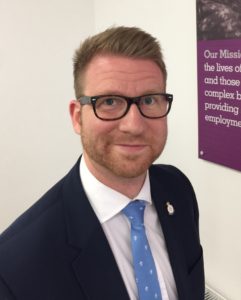 Experience and Skill Set
Procurement, Project Management, Community Services, Local Authority Services, Business Development & Growth
Profession and Job Roles
Director of Business Development
About Me
A former pilot in the Royal Air Force, I left the services in 2007 on medical grounds. Since leaving, I have worked with organisations that support people with health conditions, disabilities and other complex barriers into mainstream employment. I have now spent over a decade in this area and at my current business am responsible for the growth of the organisation as the UK Director of Business Development.

I work closely with Central and Local Government, so am able to bring forward that understanding to ensure Wilson Stuart is aware of any developing initiative that they may be able to benefit from or could influence thinking, whilst also ensuring the voice of the school is heard by Government when considering new programmes.
Motivation
Having been personally effected by disability, combined with the role that I hold, I am passionate about working with disadvantaged groups to ensure that they get the best possible start in life and go on to achieve their full potential. One of the biggest challenges I see disabled people facing, is making the transition from education to employment, with many finding it difficult to break the education cycle.
Cllr Alex Yip JP
Vice Chair of Governors
Experience and Skill Set
Birmingham City Council Councillor, self employed business man, local magistrate and School governor since 2007.
Profession and Job Roles
Birmingham City Councillor, Shadow Cabinet Member for Childrens Wellbeing, Birmingham Magistrate, Sutton Coldfield Chamber of Commerce Executive. King Edwards Camp Hill School Governor. Director: A Yip Ltd
About Me
Self employed business man, previously running a chain of takeaways before turning into property investment, Alex was elected as a local Councillor in 2015 with a special interest in children with special needs, mental health and road safety. School governor since 2007 and a magistrate since 2009 Alex has been committed to making a positive difference in the local community. Previously volunteering in Ghana, Zambia, Tanzania and Rwanda, Alex also taught in Shanghai for a year in 2004 after completing a Masters in International Relations. Alex is married with one daughter and lives in Wylde Green.
Motivation
Committed to making a positive difference to the lives of others and being of service to the local community.
Andrew Seager
Experience and Skill Set
Curriculum – Primary, Curriculum – Secondary, Curriculum – Post 16
Profession and Job Roles
Education – Headteacher
About Me
I am very proud to be a governor at Wilson Stuart school. I have always been passionate regarding education and helping develop pupils at an early age into becoming 'The Best That They Can Be'. I am currently headteacher of Bloxwich Academy in Walsall who cater for over 1300 pupils from the age of 3-19, so I have an excellent insight as to the day to day running of a school.
My other passion in life apart from my family is sport. Most weekends you will find me either playing football, squash, cycling or running not to mention cheering on Liverpool FC.
Motivation
Pupils at Wilson Stuart are an inspiration to us all. They show resilience , determination and bravery each and everyday. I was delighted to become a governor to offer my support on their journey in any way I can.
Adelaide Chitanda
Experience and Skill Set
Due to Adelaide's professional role she has an understanding of governance legislation and application as well as general governance best practice.
Profession and Job Roles
Adelaide is a senior advice officer at the National Governance Association (NGA) in which she provides strategic, procedural, best practice and legal information about governance, as well as contributing to the production of various governance resources. Adelaide leads on the policy areas of SEND, GDPR and data protection as well as early years.
About Me
After completing her postgraduate studies in Criminology Adelaide was a research assistant for an insight and intelligence agency specialising in higher education, and then went onto join the GOLDline advice team at the NGA.
Outside of education and her professional role, Adelaide enjoys spending time with family and keeping active.
Motivation
Adelaide's interest in education coupled with her passion for ensuring that all pupils are provided with top quality education, support and an inclusive learning environment were the driving motivators in her wanting to govern. Furthermore, governing provides an additional opportunity to share and utilise the governance knowledge, skills and understanding she has acquired to assist in ensuring that all pupils receive the best educational experience, enabling them to reach their potential and preparing them for a fruitful life beyond education.
Catherine McPhee
Experience and Skill Set
Housing, Regulation, Governance, Risk, Management
Profession and Job Roles
Regulation Team Manager
About Me
I am first and foremost a parent to a wonderful son who really benefits from being part of the Wilson Stuart Community. My husband and I love to spend time with our two boys and our wider family – who we rely on so much!

I have worked in social housing for 17 years and in regulation for over a decade. Part of my job as a regulator is to observe governing bodies, so I have some idea of what works well. I have an MSc from the London School of Economics in Housing & Regeneration, but that seems a very long time ago now!
Motivation
I became a governor because I wanted to give something back to the school that has really changed my family's life for the better. I work full-time so have been unable to participate in school life as much as I would like but given that meetings are in the evening this role gives me the opportunity to get involved. I understand first-hand the challenges of parenting a child with additional and complex needs and how fundamental a part of their lives school is. Wilson Stuart is an excellent setting; the dedication of staff to our son's wellbeing and happiness never fails to impress us. I am keen to play a role in making sure that excellence continues and our children, who sometimes are unable to speak for themselves, get the education and care they deserve.
Mary Riddell
Experience and Skill Set
Hospitality and catering management,
Profession and Job Roles
Full time Carer
About Me
I am a proud parent and advocate of a child with Special Educational Needs and Disabilities.

I sit on Birmingham Parent Carer Forum as a board Member and am Vice Chair of our schools Parents to Parents Association. Both are roles that I love and allow me utilise my knowledge and gain experience in a field which I am passionate.

I have been through a journey these last 11 years which have seen me climb Mount kilimanjaro, campaign for what I believe in and find my passion for helping other parents.

I believe deeply in fairness and transparency and fight hard for peoples voices to be heard. I like to learn from experiences and gather knowledge so that other people can navigate the system better and easier.

But regardless of all that, I am a Mum to an awesome Daughter who teaches me to be a better person every day.
Motivation
I joined the Board of Governors to have an input into what makes Wilson Stuart an Outstanding School and to offer my views from a parents perspective. Having a child with a disability who started in mainstream was difficult yet moving to this school has seen her thrive. I wanted to be a part of that journey and help in any way I can.
Sharon Wells
Experience and Skill Set
HI have been a governor since 2008 at a local primary school. I am a member of the Finance, Staffing and Premises committee and have been Chair of Governors and Chair of Finance.
Profession and Job Roles
I am qualified School Business Manager, working at a local primary school since 2009. I am responsible for finance, human resources, premises, health and safety and the ICT infrastructure. As part of the leadership team we work tirelessly to provide the best outcomes for our pupils.
About Me
I am a proud parent and advocate of a child with Special Educational Needs and Disabilities.
I have been married for 22 years, live in Sutton Coldfield and have two sons. My eldest son is a PE Teacher at a secondary school in Solihull and my youngest has just started at Leeds University. We have enjoyed holidays and the cultures in America, India, Dubai, Israel, Barbados, Spain and Portugal. I am a keen netballer and also enjoy reading and socialising.
Motivation
My interest in education extends beyond my professional role and I am keen to serve and make a positive difference to the community. I believe that every child should be given the opportunity to be the very best they can be and education is pivotal to that outcome.
Simon Harris
Experience and Skill Set
I have been involved in education for 23 years and I passionately believe that every single individual child deserves a bespoke learning journey that prepares them effectively for their life beyond school.

Over the years I have driven a wide range of initiatives and taken on a huge number of leadership roles and I am delighted to now be Executive Headteacher at Wilson Stuart School
Profession and Job Roles
I started my mainstream teaching career as a Secondary School PE teacher and progressed to Head of PE in a large Birmingham Grammar School. I then moved into the Special School sector and have been employed by Wilson Stuart / Education Impact Academy Trust since 2002. Starting as a one man PE team and then through the School's Sports College status becoming Director of Specialism. At this time, Wilson Stuart were at the forefront of National Sports Development.

As Applied Learning was added to the School's specialisms, I became Assistant Headteacher in 2008 and then was promoted to Deputy Headteacher in 2011.

In July 2018, I moved to Mayfield School for 2 years as Interim Headteacher and then returned to Wilson Start as Executive Headteacher in September 2020.
About Me
I live in Sutton Coldfield and have been married for 20 years. I have 3 daughters who keep me very busy when I am not working and I love running and playing golf.
Motivation
Every student in our school deserves the very best educational experience and we will deliver that by constantly striving to innovate and improve our provision. Better Never Ends!